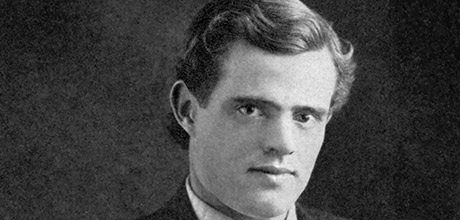 Birth Name: John Griffith Chaney
Birth Date: January 12, 1876 (Died: November 22, 1916)
Birth Place: San Francisco, California, United States
The Adventurous Life of Jack London: From Poverty to Literary Stardom
Hello, my amazing readers! 🌈
Today, I'm bringing you the extraordinary story of Jack London, a writer who turned his passion for adventure and his experiences in the wilderness into literary masterpieces.
Are you ready to dive into the thrilling world of this iconic author?
Let's go! 🎉
Picture a young Jack London
Born into poverty in 1876 in San Francisco, California, Jack's life was anything but easy for him.
As a child, he had to work odd jobs to help support his family, but even during these tough times, he never lost his love for reading and writing. 📖
Jack's life took a dramatic turn when he joined the Klondike Gold Rush in 1897.
Braving the harsh conditions of the Yukon, he embarked on an epic adventure that would later inspire some of his most famous works.
Even though he didn't strike gold, he found something far more valuable – the inspiration to become a writer! ✍️
Upon returning to California
Jack London began to write furiously.
His experiences in the wilderness led to gripping tales of survival, struggle, and the human spirit.
With the publication of "The Call of the Wild" in 1903, London skyrocketed to literary stardom, capturing the hearts of readers worldwide. 🌍
But Jack didn't stop there!
He went on to write more than 50 novels, including classics like "White Fang" and "The Sea-Wolf".
He became one of the highest-paid and most popular authors of his time, and his adventurous spirit lives on in his captivating stories. 🌟
What makes Jack London's story so inspiring is his unwavering determination
Despite growing up in poverty and facing numerous hardships, he never let these obstacles stand in the way of his dreams.
His incredible journey is a testament to the power of resilience, hard work, and following your passion. 💖
So, lovely readers, let Jack London's incredible story remind us that no matter where we come from, we can achieve greatness if we stay true to our dreams and never give up. 💪
Don't forget to like, share, and comment on this post! I'd love to hear your thoughts on Jack London's amazing life and his impact on literature. Keep chasing your dreams and living life to the fullest, beautiful people! 💃
Celebrity signature of Jack London

Fun facts about Jack London
His first story received 600 rejections before being accepted.
London's foster mother was a former slave named, Virginia Prentiss.
He wrote the early dystopian novel The Iron Heel (1908) which influenced George Orwell.
References
https://homelesscelebrities.com/wp-content/uploads/2022/12/jack-london.jpg
220
460
HC
https://homelesscelebrities.com/wp-content/uploads/2022/12/homeless-celebrities-logo.png
HC
2022-12-22 20:21:05
2023-05-13 21:16:27
Jack London