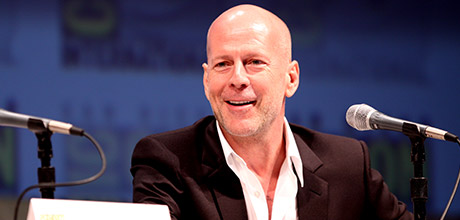 Birth Name: Walter Bruce Willis
Birth Date: March 19, 1955
Birth Place: Idar-Oberstein, West Germany
Walter Bruce Willis, better known as Bruce Willis, is an American actor, producer, and singer.
He was born on March 19, 1955, in Idar-Oberstein, Germany, where his father was serving in the military.
Willis grew up in New Jersey, and after completing high school, he studied drama at Montclair State University.
Willis began his acting career in the 1980s, appearing in television shows such as "Moonlighting" and "The Twilight Zone."
He gained widespread fame and critical acclaim for his role as John McClane in the 1988 action film "Die Hard," which became a blockbuster hit and established him as a leading actor in Hollywood.
Throughout his career, Willis has appeared in a wide range of films, including action, comedy, and drama.
He has starred in several successful franchises, such as "Die Hard," "The Fifth Element," and "The Sixth Sense," and has received numerous accolades for his acting, including a Golden Globe Award and a Primetime Emmy Award.
In addition to his acting career, Willis has also released several albums as a singer and has dabbled in producing and directing.
He is known for his philanthropy and charitable work, and has supported a number of causes, including disaster relief and children's charities.
Willis has been married twice and has five children.
He is known for his rugged good looks and tough guy persona and remains one of the most popular and successful actors in Hollywood.
Fun facts about Bruce Willis
Ranked #22 in "Empire" (UK) magazine's "The Top 100 Movie Stars of All Time" list.
Set a new benchmark for actors' salaries when he was paid $5 million for Die Hard (1988) in 1988. Eight years later, his wife, Demi Moore, set a benchmark of $12 million with Striptease (1996).
The scar on his right shoulder is from surgery due to complications from a broken arm when he was age 17.
References
https://homelesscelebrities.com/wp-content/uploads/2022/12/bruce-willis.jpg
220
460
HC
https://homelesscelebrities.com/wp-content/uploads/2022/12/homeless-celebrities-logo.png
HC
2022-12-22 19:46:00
2023-05-13 21:16:20
Bruce Willis