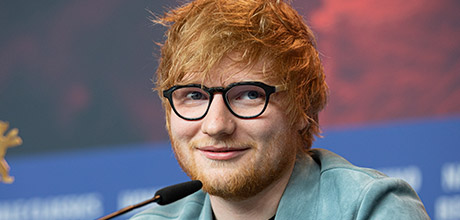 Don't believe Ed Sheeran was homeless?
Ask them yourself: TikTok Twitter YouTube
Birth Name: Edward Christopher Sheeran
Birth Date: February 17, 1991
Birth Place: Hebden Bridge, West Yorkshire, England
Ed Sheeran's Musical Odyssey: From Street Performer to Global Superstar
Hello, dear readers! 🌟
We're back with another inspiring story that we can't wait to share with you.
Today, we're taking a look at the incredible journey of a singer-songwriter who stole our hearts with his beautiful melodies and heartfelt lyrics.
Prepare to be amazed by the life and career of the sensational Ed Sheeran! 🎸
Strumming His Way to Success
Born in 1991 in Halifax, West Yorkshire, England, Ed Sheeran was passionate about music from a young age.
He began playing the guitar and writing songs during his early teens, and it wasn't long before he set his sights on a career in the music industry. 🎵
The Bold Move to London
Determined to make his mark, Sheeran relocated to London in 2008 to pursue his musical dreams.
He tirelessly performed at open mics and small gigs across the city, gradually building a following and honing his skills as a singer, songwriter, and performer. 🌃
The Power of Social Media
In an era where social media was just beginning to shape the entertainment landscape, Sheeran cleverly used platforms like YouTube to share his music with the world.
His online presence gained traction, and before long, his fanbase began to expand beyond the UK. 💻
Climbing the Charts
Sheeran's hard work and dedication paid off when his debut album, "+" (Plus), was released in 2011.
The album quickly climbed the charts, and singles like "The A Team" and "Lego House" captured the hearts of millions of listeners.
This was only the beginning of Sheeran's meteoric rise to fame. 🚀
A Worldwide Phenomenon
As his career progressed, Sheeran released hit after hit, with albums like "x" (Multiply) and "÷" (Divide) further solidifying his status as a global superstar.
His unique blend of folk, pop, and hip-hop elements, combined with his relatable lyrics, made him a favorite among fans of all ages. 🌍
Collaborations & Accolades
Throughout his career, Sheeran has collaborated with numerous top artists, including Taylor Swift, Justin Bieber, and Beyoncé.
His impressive list of accolades includes multiple Grammy Awards, BRIT Awards, and an array of chart-topping singles. 🏆
Inspiring the Next Generation
Ed Sheeran's journey from humble beginnings to international stardom demonstrates the power of perseverance, self-belief, and the impact of harnessing technology to share one's art.
His story is a shining example of how dedication and talent can lead to extraordinary success. 💫
So, my wonderful readers, let Ed Sheeran's astounding story be a reminder that even the loftiest dreams can become a reality with passion, hard work, and a little bit of ingenuity.
Remember, the sky's the limit when it comes to pursuing your own dreams! 🌟
Don't forget to share and comment on this post with your favorite Ed Sheeran moments or how his music has touched your life. Keep being amazing, and never stop believing in the power of your dreams, my lovelies! 💖
Fun facts about Ed Sheeran
Has named all four of his guitars: Felix, Cyril, Nigel, and Loyd.
Crashed for six weeks on Jamie Foxx's couch in Los Angeles while he was trying to get a head-start in the music business, during which time Jamie invited Ed to appear at an all-black club in downtown L.A. where he played the ukulele, sang, and received a standing ovation.
His album, ÷ (Divide), is the fastest-selling album by a male artist ever in UK chart history, selling 672,000 copies in its first week of release.
References
https://homelesscelebrities.com/wp-content/uploads/2022/12/ed-sheeran.jpg
220
460
HC
https://homelesscelebrities.com/wp-content/uploads/2022/12/homeless-celebrities-logo.png
HC
2022-12-22 20:10:28
2023-05-13 21:16:25
Ed Sheeran