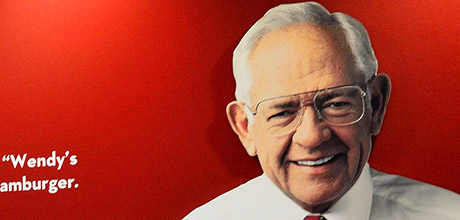 Birth Name: Rex David Thomas
Birth Date: July 2, 1932 (Died: January 8, 2002)
Birth Place: Atlantic City, New Jersey, United States
Rex David Thomas, better known as Dave Thomas, was an American entrepreneur and philanthropist.
He was born on July 2, 1932, in Atlantic City, New Jersey, and grew up in Kalamazoo, Michigan.
Thomas was orphaned at a young age and was raised by his adoptive grandparents, who taught him the value of hard work and determination.
Thomas is best known as the founder and CEO of the fast-food chain Wendy's, which he started in 1969.
He became known for his down-to-earth and folksy personality and appeared in over 800 commercial advertisements for Wendy's throughout his career.
Thomas was also involved in a number of charitable causes, including education and adoption, and was widely respected for his philanthropy and business acumen.
In addition to his work with Wendy's, Thomas was also involved in a number of other business ventures, including real estate and banking.
He was recognized for his contributions to the food industry and was inducted into the Junior Achievement U.S. Business Hall of Fame in 2004.
Thomas died on January 8, 2002, at the age of 69, and is remembered as a pioneer in the fast food industry and a respected and influential figure in the business world.
His legacy lives on through Wendy's, which remains a popular and successful chain.
Fun facts about Dave Thomas
Named his restaurant chain after his 8-year-old daughter, who was nicknamed Wendy by her siblings (her actual name was Melinda Lou).
In 1979, Thomas' rags-to-riches story earned him the Horatio Alger Award from the Horatio Alger Association of Distinguished Americans.
Is in the Guinness Book of World Records for the owner staring in the most commercials.
References
https://homelesscelebrities.com/wp-content/uploads/2022/12/dave-thomas.jpg
220
460
HC
https://homelesscelebrities.com/wp-content/uploads/2022/12/homeless-celebrities-logo.png
HC
2022-12-22 20:02:33
2023-05-13 21:16:23
Dave Thomas