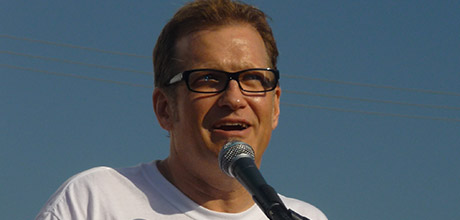 Don't believe Drew Carey was homeless?
Ask them yourself: Facebook Instagram Twitter
Birth Name: Drew Allison Carey
Birth Date: May 23, 1958
Birth Place: Cleveland, Ohio, United States
Drew Allison Carey is an American comedian, actor, and television host.
He was born on May 23, 1958, in Cleveland, Ohio, and grew up in the nearby suburb of Old Brooklyn.
Carey began his career as a stand-up comedian in the 1980s and gained widespread recognition for his work on the television show "The Drew Carey Show," which aired from 1995 to 2004.
In addition to his work on "The Drew Carey Show," Carey has also appeared in a number of films, television shows, and stage productions.
He is known for his quick wit and his everyman persona and has received critical acclaim for his performances.
Carey is also known for his philanthropy and charitable work.
He has supported a number of causes, including education and animal welfare, and has served as a UNICEF Goodwill Ambassador.
Carey is single and has no children.
He is known for his friendly and down-to-earth personality and has a large and loyal fan base.
Despite some setbacks in his personal and professional life, Carey remains a popular and successful figure in the world of comedy and entertainment.
Fun facts about Drew Carey
Served in the United States Marine Corps ranked as Sergeant.
He wrote a memoir titled 'Dirty Jokes and Beer: Stories of the Unrefined' in 2000, which got on The New York Times Bestseller list.
Underwent LASIK surgery to correct vision; continues to wear trademark glasses as a prop.
References
https://homelesscelebrities.com/wp-content/uploads/2022/12/drew-carey.jpg
220
460
HC
https://homelesscelebrities.com/wp-content/uploads/2022/12/homeless-celebrities-logo.png
HC
2022-12-22 20:08:05
2023-05-13 21:16:25
Drew Carey