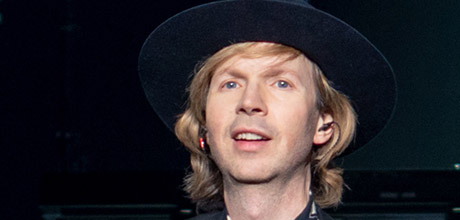 Don't believe Beck was homeless?
Ask them yourself: Facebook Instagram Twitter YouTube
Birth Name: Bek David Campbell
Birth Date: July 8, 1970
Birth Place: Los Angeles, California, United States
The Remarkable Odyssey of Beck: A Journey Through Musical Experimentation and Success
Hey there, awesome readers! 🤩
Today, we're diving into the fascinating world of an artist known for his genre-defying music and eclectic style.
Get ready to be inspired by the incredible life and career of the multi-talented musician, Beck! 🌟
From Humble Beginnings to Musical Exploration
Born in 1970 in Los Angeles, California, Beck Hansen, better known simply as Beck, grew up surrounded by a diverse array of musical influences.
Despite facing financial struggles during his early years, Beck's passion for music was unstoppable.
As a teenager, he honed his skills on the guitar and harmonica, and before long, he was performing in local clubs and bars, captivating audiences with his unique sound. 🎸
Defying Genres and Crafting a Signature Sound
Throughout his career, Beck has been celebrated for his ability to blend various musical genres such as rock, folk, hip-hop, and electronic music.
His breakthrough came in 1994 with the release of his single "Loser," which quickly became an anthem for the alternative music scene.
With its catchy melody and quirky lyrics, Beck had officially made his mark on the music world! 🎵
Navigating the Waves of Success
From his debut album "Mellow Gold" to the Grammy-winning "Morning Phase," Beck has consistently pushed the boundaries of his musical expression.
His ever-evolving style has not only garnered him critical acclaim but also a loyal fan base that eagerly awaits each new release.
With multiple Grammy Awards and numerous hit albums under his belt, Beck's legacy as a musical innovator is indisputable. 🏆
Inspiring a New Generation of Musicians
Beck's fearlessness in experimenting with various genres and styles has paved the way for countless musicians to embrace their own creativity.
As an artist who is unafraid to take risks, Beck serves as a beacon of inspiration for aspiring musicians everywhere, proving that the only limits in music are the ones we impose on ourselves. 🚀
Embracing the Journey with Beck
Beck's incredible journey from a struggling musician to a celebrated artist is a testament to the power of perseverance, creativity, and following your own unique path.
His ability to push musical boundaries and remain true to his artistic vision is a shining example for us all.
So, dear readers, let Beck's amazing story be a reminder that embracing our individuality and daring to explore new horizons can lead to a world of possibilities! 🌈
Make sure to share and comment on this post to share your thoughts about Beck's music and how his genre-defying style has impacted you! Stay adventurous, keep rocking, and never stop exploring, my friends! 🤘
Fun facts about Beck
Took his mother's maiden name upon his parents' divorce.
Up until Beck did the album "Mutations," he played virtually all the instruments on almost all of the songs on his recordings. From "Mutations" on, he continued to produce and write the material, but recorded it with a band.
His mother, Bibbe Hansen, was the youngest member of Andy Warhol's entourage of stars, debuting in his unreleased 1965 film "Prison" at age 13.
References
https://homelesscelebrities.com/wp-content/uploads/2023/01/beck.jpg
220
460
HC
https://homelesscelebrities.com/wp-content/uploads/2022/12/homeless-celebrities-logo.png
HC
2023-01-02 20:15:57
2023-05-13 21:16:20
Beck